Well, we've been working harder than the third monkey trying to get on the ark this week. Friday was the day that both Coach and I hit the tipping point. Coach isn't a complainer, and he usually doesn't let on when he's feeling the pressure of life.
Usually.
Friday was not "usually", which is unfortunate because I was fully ready to pitch a fit of my own and fall right on in it for a day or two, but alas, it was Coach's turn. He hasn't had the luxury of a melt down in a while.
I gladly obliged him. It was a busy and stressful week.
We both teach high school freshmen. They are darling. Energetic, but darling. Usually. Again, Friday was not "usually"; Friday was Homecoming. Friday was the first Homecoming EVER for freshmen.
Friday was a difficult day. I'm talking trying to keep bullfrogs in a wheelbarrow kind of difficult.
So today? Today we rested. We stayed home. We haven't had a Saturday at home since JUNE. And all 5 of us have been running on tired since June.
Monday Coach had a JV football game to coach. Tuesday V had soccer practice. Wednesday G ran in the cross country championship.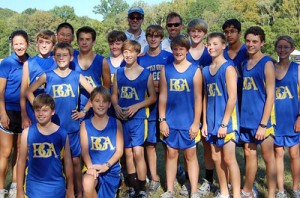 Thursday V had soccer practice, and Coach and I had to make a video for the pep rally. Friday AC had chorus practice at 3:30. G had to attend the girls cross country championship at 4:00. Coach had to coach the football game at 7:00. AC had to perform at half-time.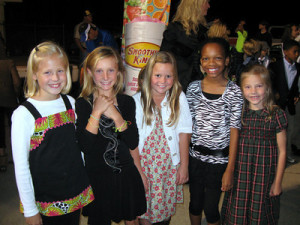 And before I knew it I was sitting bleary eyed in front of the television at 2:00 AM waiting on Coach to get home from the game.
So today we rested. We visited some friends. Coach and I sat in a swing under a big old oak tree and watched the dogs swim in the pond while the kids ran around laughing.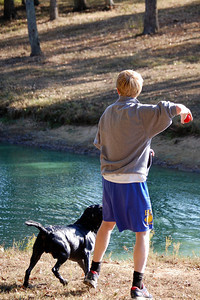 Mack swam and fetched to the point of delirium. It's who he is. We've learned to let it ride.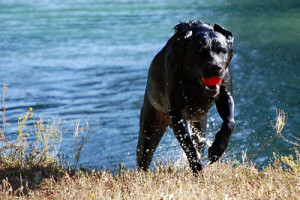 Ivy, who incidentally is nuttier than squirrel scat, rolled in horse manure and ate acorns.
Are you wondering if acorns are safe for dogs? Yeah, I was too.
Lucky for us the friends we were visiting both happen to be veterinarians. So Coach asked. Dr. Friend said it was not a big deal, but of course anything could be toxic if the dog ingested too much.
And then we heard about a Lab who ate 3 pair of underwear, two socks, and a bra. Impressive isn't it? I KNOW.
And what's more impressive is this. Out of three pair of underwear, two socks, and a bra- the only thing that was chewed was the bra. And if swallowing undergarments without chewing doesn't impress you, then maybe knowing that the only item the dog passed on his own was the bra might do the trick.
Then Dr. Friend went on to tell us that the acorn "crop" an oak tree produces is know as a mast. And apparently hunters and oak tree masts are not friends. It didn't make sense to me; why would anyone care?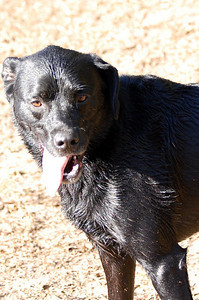 And Ivy continued to eat acorns. Dr. Friend said, "Don't let her eat too many; they can do damage to her kidneys if she eats too many." And then I put two and two together and figured that if acorns would make dogs sick, they'd probably make deer sick too. And apparently hunters find it much more entertaining to hunt deer who do not suffer from the trots.
So we loaded everyone up and came home. We ate dinner and then we built a fire. And by "we" I mean Coach built a fire. But the collective "we" did roast marshmallows and make s'mores.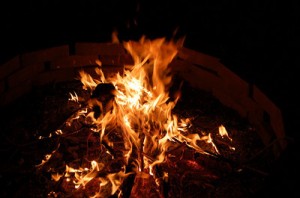 Tonight we realized there are only 4 more Octobers for us as a family of 5 before G leaves for college. The girls reiterated that the Pumpkin Patch was for babies, and Coach threw down the gauntlet and told them we would all be going to a haunted house this year since they were so grown up.
Except me.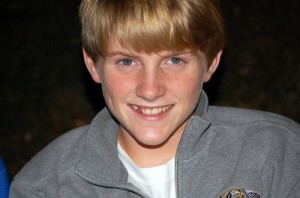 I also realized that AC had done a complete wardrobe change because she wanted to match the fire. She knew I'd be taking pictures. She's thoughtful that way.
Note: She doesn't do laundry.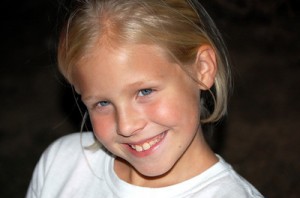 V is exhausted. She sat bleary-eyed and catatonic in a chair by the creek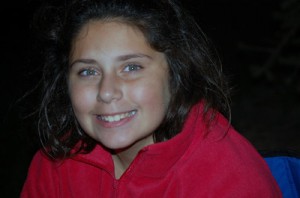 until her father decided to try to scare them with his elaborate plan to sneak up the creek bed wearing a Jason mask and a wielding the ever-terrifying power drill.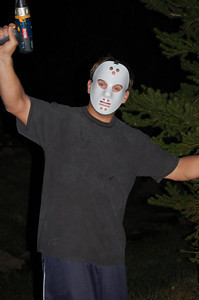 And then the wild rumpus started.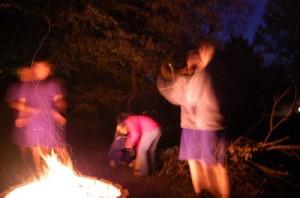 See y'all!