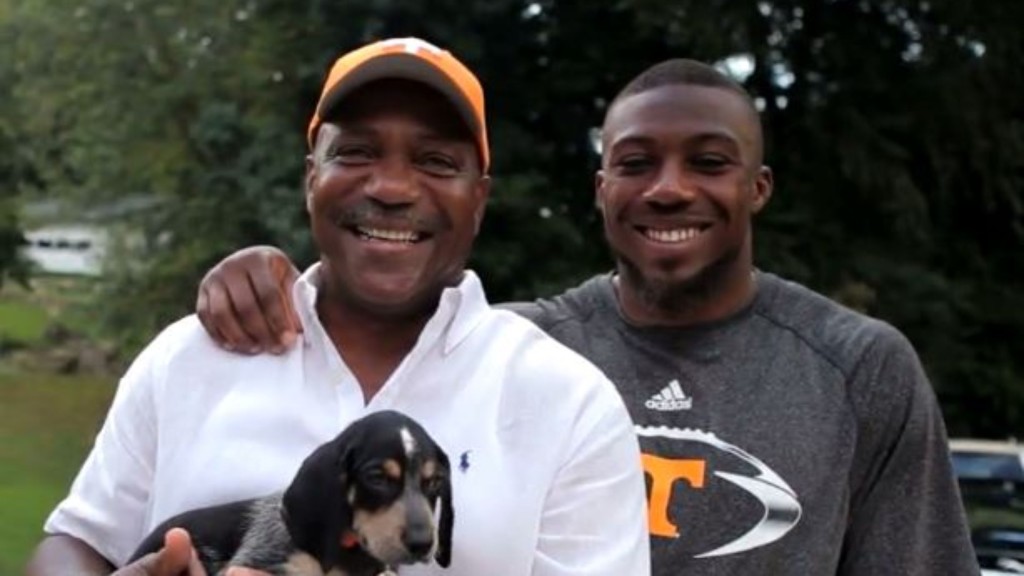 It was 2009.  I wrote this.
I'm not even going to try to explain it because I don't understand it myself.  I have always loved a good football player, especially a linebacker or a receiver.  I don't know why, but I do.
I have no specific criteria.  Really it's just intuition and sports announcers.
My earliest memories are of Tony Dorsett and OJ Simpson.  I know.  In fairness, #33 still hasn't let us down.
Later it was Willie Gault, Reggie White, Leonard Little, Al Wilson, Carl Pickens, Raynoch Thompson (incidentally, the name I  swore my first-born would bear after a particularly exciting win), Reggie Cobb, Chuck Webb, Ray Lewis, Peyton Manning, and if I'm being totally honest, Tim Tebow.
I'm a sucker for an SEC football player.
Back in 2009 Eric Berry got my attention.  There are only a few players that I can recall who exude joy when they play football.  He was one.  In 2009 I worried my judgment would be off and he'd let me down.  I wrote about it.  It was really for posterity and maybe humor.  Because if I'm being totally honest, I assumed that eventually he'd let me down.
Here we are in 2014.  He's making headlines.
Sadly, not with his game stats.
Turns out, you can go from being on top of the world to being a cancer patient in a matter of hours.
Listen, this cancer thing is out of control.  Sometimes I feel like we're all just running from this terrible closet-monster, and only the fast and furious survive.
Then one of the fast and furious gets it, and we realize that it doesn't matter how much money we make, or the color of our skin, or the name of the God we worship, or the country we're born in. This particular predator doesn't discriminate.
I told Coach that it was taking EVERYTHING in me not to sit down and just bawl over Eric Berry.
And it's not just because he has cancer, it's because Bobbie Wolgemuth fought it, and Chuck Hendry fought it, and Peyton Gwinn fought it, and Peggy Burnette is fighting it, and Cindy Tripp is fighting it, and Kristen Vasquez is fighting it, and Maggie's dad is fighting it, and every time I turn around somebody has cancer.
And sometimes we just want to yell into the great black night that enough is enough, and we just want to punch somebody, but the thing is insidious and quiet and evil and punching doesn't help.
We learn quickly that all we can do is submit to it and start the journey.  And even with all the medicine and knowledge and faith, at the end of the day the physical outcome is still just a shot in the dark.
So.  Here we are closing in on Thanksgiving.
I'm willing to bet we can all name a dozen people in our lives who have or have had cancer.
I don't have any answers or profound truths regarding cancer.  I just know this-
Eric Berry is a good dude.  He has done good things for this world, his community, and his family.
Y'all he bought his dad a Bluetick Coon Hound from Smokey's lineage.  That alone qualifies him for Vol sainthood.  Well, really for sainthood in general, but if you don't appreciate the intricacies of SEC football, you won't understand.
He has helped children, he has done right by his family, and he has handled his celebrity well.  Now he's sick.
Our people who have cancer are doing the same thing.  They are fighting their fight well.  Maybe their platform isn't as big.  Maybe their fight is quieter.  Maybe their life is smaller in our media-driven economy.  But we all know someone who is sick.
So how about this?
How about we commit this week to being grateful for the voices of the people in our lives who have taught us to be vulnerable and raw and brave?
Facing cancer requires all of those things.  When you talk about your gratefulness for blessings, can you remember the people who fought, fight, and will fight for life and time and healing?
Eric Berry is a good dude.
He's a Vol.  He's an athlete.  He's young.
But mostly, he's human, and a brother, and a son, and a kid.
Just like the people you know.
Happy Thanksgiving.  Let's just be grateful for those who fight the good fight this week…
Even if they are 'Bama fans.
Lord, I'm sorry for that.  🙂