Howdy. Mack here. Sorry you're having to listen to the likes of me, but my lady-master has had a relapse of her outdoor euphoria. She's been out in my yard all dang summer- which is all well and good except that when she's outside- I'm outside. And frankly I prefer the indoors.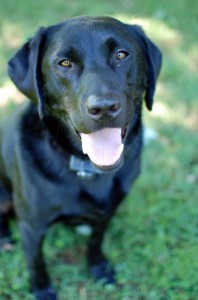 I'm a black dog. It was 103 degrees here today. Try being a black dog in that kind of heat.
But lady-master is good to me; she puts out a shoddy plastic pool she bought at the Wal-Mart a few years ago. Oh, it has two holes in it now, but it's all good because the big man fixed it right up with some duct tape which doesn't really do the trick, so they put it on the slope in the yard to keep it from leaking.
Honestly, I don't know why she doesn't splurge and spend the $6.99 for a new pool. The Maltese and the Golden Retriever behind us have an in-ground pool with a diving board and big wide steps perfect for napping.
Not us, nope the two black dogs have the 2009 Wal-Mart Special.
I tried to tell her we were a washed-up high school quarterback and a Trans-Am away from being THE southern stereotype, but she just keeps filling that sorry little thing up for me.
Until today. Like I said, today it was 103 degrees- heat index of 112.
You need gills to breathe outdoors because the humidity is so high. So it got her.
Today she stayed in.
Oh she made a go of it; trying to be all outdoorsy and such. She busted out at 6:00 in her gardening clothes like she was going to do something, but sweating isn't really something she enjoys, so she watered and called it a day.
But she filled up our pool and put on some Lynyrd Skynyrd for us.
So, if I had to guess, she'll be back to her bloggy indoor self tomorrow.
See y'all!