I had a grandmother that could put Paula Deen to shame, and just like Paula Deen, she showed no fear at the mention of butter or deep frying. Buddy, as all of her grandchildren called her, died in January of 1994 right after the holidays.
At her funeral one of the things I heard over and over again was how she made the best fried pies anyone had ever eaten. She's been dead over 15 years and people still talk about her fried pies.
My mom made the fried pies over the weekend as she proclaimed on her facebook page which subsequently sent her entire network of friends into some sort of fried pie frenzy. It was both funny and sweet. Anyway, I told my mom I would put the recipe here so that all her people could get the recipe and forward it along, thus also forwarding along the craziness that is our home.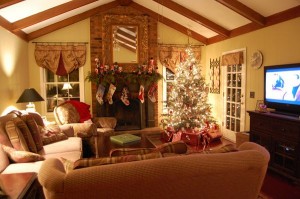 Welcome to our home. Well, our den anyway, but this is where we spend the majority of our time. So, from our house to yours, enjoy some of Buddy's most famous recipes.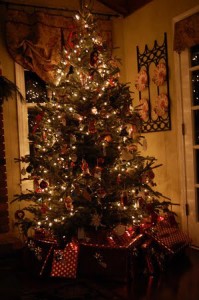 Buddy's Fried Pies
8 oz. pkg. dried peaches
8 oz. pkg. dried apricots
3 cups water
1/2 cup honey
1/2 cup sugar
4 cups flour
2 teaspoons of salt
2/3 cup shortening
3/4 cup grated cheddar cheese (yes, seriously- it's the secret)
1 1/2 cups cold milk
Cook fruit in water approximately 1 hour or until tender. Drain and mash, add honey and sugar. Meanwhile in a large bowl mix flour, salt, shortening, cheese and milk together in that order to form dough. Turn out on floured board and knead. Roll out 1/4 at a time , cut into squares and add approximately a tablespoon of fruit mixture, fold dough over and seal with a wet fork. Fry in oil in 350-400 degree oven, turning once.
** The secret is to get the dough very thin. VERY thin. I use a rubbermaid sandwich container to cut the dough into a square and I put a little more than a tablespoon of fruit in them.
She was also known for her Cranberry Salad. As a matter-of-fact, she made a whole bunch the Christmas before she died and she personally walked around the neighborhood delivering it to the neighbors. She told my grandfather she wanted to do it because she wouldn't be around to see another Christmas. We have no idea how she knew.
Cranberry Salad

1 pkg. cherry jello
1 1/2 cup hot water
2 cups ground cranberries
1 whole orange, ground
1 cup sugar
1 cup celery chopped
1 apple chopped
1 cup pecans chopped
1 small can crushed pineapple
Pour sugar over ground cranberries and orange. Add prepared jello. Add chopped celery, apples, pineapple, and nuts. Refrigerate.
Butterscotch Cookies (My favorite Christmas memory- and not really butterscotch at all)
1/2 lb. butter softened
1/2 cup brown sugar
1/8 cup white sugar
1 egg yolk
2 1/2 cups flour
Make stiff dough. Roll into 1 inch balls then flatten. Place a pecan half on top and bake at 425 for about 10 minutes.
Happy pie making!
See y'all!