I cannot think of a better idea in the spring than some good old-fashioned competition. Especially when there are teenagers and a river involved. One of the most perplexing traditions that our school has is the annual tug-of-war. It's been a tradition since 1932- 77 years and they've never missed a tug.
This is not a tug for the faint of heart either. This tug takes place OVER the Harpeth River- and I don't know if you've kept up with our weather lately, but we've had ourselves some rain.
The river? It was a-flowin.
So, like I said, what better way to end a Tuesday than to load 400+ teenagers on buses, drive them out to a bridge, send them to separate sides of the river and have a tug.
How do we separate them into teams? Oh- did I not mention we have secret societies?
Except they aren't secret. When the kids are in 4th grade they are assigned to either the Greers or the Platos- and that is their family until they graduate. The faculty is also assigned when they are hired. EVERY PERSON who is employed or attends the school is in one of the societies. And on tug day- EVERY PERSON tugs.
Oh- it's serious. It rivals the Tennessee vs. Florida football game. Colleagues who have worked together since the dawn of time turn on each other on tug day.
All year we have competitions- field day, faculty quiz bowl, student quiz bowl, arm wrestling, talent shows, and the societies are also given points for the number of students who are on the honor roll. Whichever society has the most points on tug day decides the side of the river they tug from.
It's serious. Have I said that? They shut the highway down. The news comes. There is face paint. There are t-shirts and armbands. And even an ambulance.
We don't mess around.
Take a look…
Spectators lining up on the bridge to watch.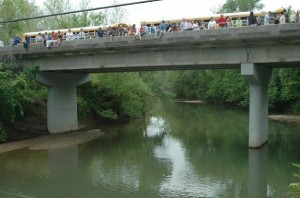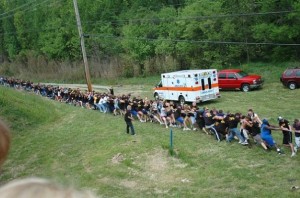 The Greers (and the ambulance)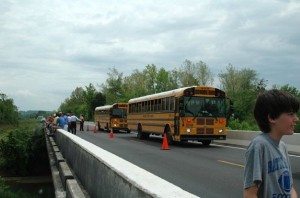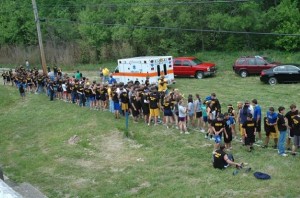 Greers preparing.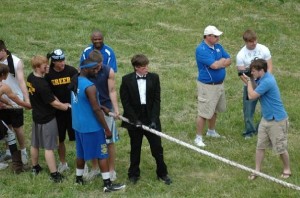 The Senior Leader of the Greers.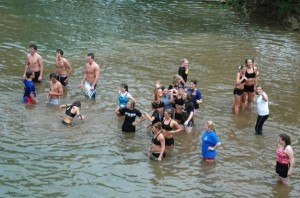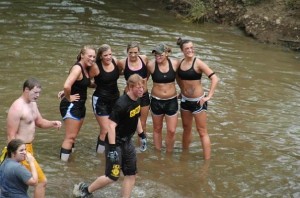 The Senior Girls in my least favorite tradition at the school- they dress in black sports bras and shorts for the tug- a tradition I'm fairly certain does not date back to 1932, but a tradition nonetheless.
Oh- as of right now, our house is divided. Coach and G are Platos, and I'm the lone Greer. AC is my only hope…