Okay- I'm warning you- I've been without internet AGAIN…for six days, and it's been an emotional couple of weeks.
Matter of fact, I don't think I've been this upset about the goings on in the entertainment world since Peter died on Thirty Something, and I declared at the dinner table through tears that were inexplicable to my parents that "he was the first person close to me that had died."
Ummm, yeah- I have a penchant for the dramatic.
Today things are serious, and I usually don't talk about this much because it's just not edifying to anyone, and it's certainly not funny.
But, it's my blog and I'll preach if I want to. (Seriously, no more funny stuff.)
Coach and I had the weekend of the 4th to ourselves, and we decided it was a good time to celebrate our anniversary. We decided to get a room in downtown Nashville to watch the firework display, go to dinner, and pretend we were at the beach.
We were having a late lunch when we got a text message that Steve McNair had been killed. If you don't know, he was a former Titan quarterback and a well-respected member of the community.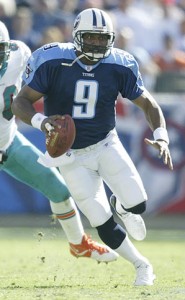 I loved him because he was so dern tough- a Mack truck would have had trouble taking him down.
So it was both horrifying and ironic that it only took an enraged 20-year old girl to do it…permanently. And then she took her own life.
But the real tragedy was that he was found in a condominium in Nashville with a 20 year old girl who was not his wife, and now his wife and his four boys are living with the very public story of his indiscretions.
The news and radio stations have waxed on and on about how he will be remembered. They wonder if people will remember him for being the quarterback who was involved in the Music City Miracle, the one who led the Titans back from what seemed to be an impossible situation in a Superbowl only to miss the victory by a yard, the man who spent much of his time and money in revitalizing black communities in Nashville, and trying to provide opportunities to children who otherwise would not have hope.
Or will he be remembered as a philandering husband who was killed by a young mistress?
If I had to guess, I'd say he'll be remembered for both. Because both were true. He was a man who loved his family, who attended church regularly, who worked tirelessly in the community, and was generally a very kind man.
He also had a weakness for other women- and so regardless of how the world remembers him, the important thing is, how will his family remember him?
His wife was robbed of the opportunity to ask him if he loved that girl or not. She will never get the chance to confront him about the mistress and try to make some sense of it. There will never be a time that she can explain to this girl who took so much from her, that a marriage and a family are things you build. And the construction is hard and tiresome and frustrating and joyful. A family is not something that you shop for, find the one that looks good, and then say "I think I'll have that one." You have to build your own, and have enough respect for women, and people in general, to do what is right and not take what is not yours.
She will spend a lifetime fielding questions from her boys and having to answer them with profound uncertainty and grief, because she knows that the one man they need to answer those questions is not around.
She will likely spend the rest of her days wondering just how much of her marriage was real. She'll wonder if she had lost five more pounds would it have made a difference? Or she'll wish she hadn't made such a big deal of his sloppiness. There will be a million things that she'll wonder had she done them differently might he be in the backyard throwing ball with his boys?
And she'll never get those answers.
I know. I've lived it.
And while her situation is certainly more tragic because of Steve McNair's death and the publicity of it all, the pain of marital betrayal is something that I share with far too many women today.
If I could talk to Mechelle McNair I'd tell her that it wasn't about her, and it never was. His fears and failures were so much bigger than her or their marriage.
And I'd tell her that I am positive that where ever he's spending eternity, he sees the big picture now, and if he could, he'd tell her how sorry he was.
And he'd really mean it.
And he would understand, and so would she.
I know those things to be true because I know my God- He is the Ancient of Days. He saw the whole story play out, he knows all the details, and He'll handle it better than any of us ever could. He'll bring retribution where it's needed, and He'll bring healing too.
And then I'd tell her that I'll pray tirelessly that He brings healing to her and her boys just as fast as He can.
I believe Steve McNair was a good man who made some terrible decisions. I will remember his unbelievable feats on the football field, and his camps for underprivileged children, and the stories about how he visited total strangers in the hospital, and signed jerseys for sick children, and how when I saw him in Publix he smiled and said "Hey, how ya doin" just like any old person would.
But I'll also remember the pain he left behind, because, that too is a part of who he was. As beautiful and vibrant and talented as he was, he was also flawed- just like you and just like me.
Our capability to leave a pile of rubble and dust in the aftermath of our mistakes is something that always needs to be near to us, whispering to us the warning that our actions do influence and impact the ones we love.
And so all I can do now is pray, so I'll pray that his family, in time will be, as only he could say, "much more better."
I'll miss #9.