I cannot tell you how many hours of Golden Girls we watched in college. Matter of fact, aside from the few hours a week we took to watch Grease and Days of Our Lives, that was really the only show we watched religiously (okay, and maybe Beverly Hills 90210 and Melrose Place too). Don't judge, someone had to preserve the pop-culture of East Tennessee.
Anyway, we're awfully sad around here that Blanche left this world today. Turns out, no one in the family is more upset about her passing than AC. She's at the beach right now with her dad, but she did send my mom an e-mail that read:
"can you believe that the star of golden girls just died?! that means no more new epesods!"
Please excuse her inability to capitalize or spell correctly, as well as her belief that she is living in 1986.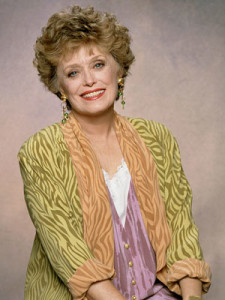 See y'all!