Coach and I chaperoned the prom Saturday night which is why I didn't cook on Sunday. Yes, we are officially old. We stayed out until…11:30. I ate too much shrimp cocktail. And that led to a completely unproductive Sunday which ended with us at the local Chili's for dinner.
To be fair, we (and by we I do mean Coach and his dad) did rearrange the furniture in over half the house Sunday, but really all I did was supervise and dust a bit.
I am going to go ahead and tell you what I've planned for next week because if you live near a Kroger – country-style ribs are on sale right now, and that is exactly what we're having. So- you can run out and get yourself some and get ready for BBQ ribs and baked beans for Sunday.
But before I give you the recipes, I just have to show you the funniest thing I've seen at a high school prom in a while- and believe me- I've been to my fair share in the last 16 years.
We teach at a small independent school outside of Nashville. Some of these kids have been in class together since they were in preschool. So- they're close.
Some might say too close. Because two of our senior boys who were not dating anyone at the time decided that rather than ask a girl to go with them, would just go together AS A JOKE. Now, without wanting to make any kind of political statement here- I do want to say as a courtesy to the boys, that they are not homosexuals. I asked them if they would mind if I wrote about them and posted a picture if I didn't use their names, and they said it was fine, but they did want me to clarify that they did this as a joke, not as a political or sexual statement.
One rented a pale blue tux, the other citrus orange and they did the whole Dumb and Dumber schtick all night long. They went through presentation, they did comedy routines, and provided entertainment for the faculty, parents, and their peers. It was hilarious. Below you can see the pictures.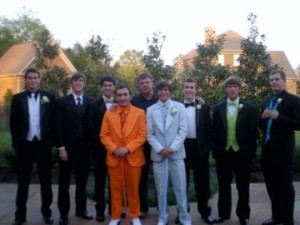 Now, I am both fascinated and disturbed that you can actually rent an orange tuxedo, BUT it might come in handy if I can win a bet with Coach over UT football in a weak moment…
We'll see.
Now, on to Sunday Supper for this coming Sunday…
2 tablespoons vegetable oil
4 lbs. country-style pork ribs
1/2 cup dry sherry
1/2 cup water
1/2 cup firmly packed brown sugar
1 teaspoon salt
1 teaspoon celery seeds
1 teaspoon chili powder
1/4 teaspoon pepper
2 cups water
1/4 cup vinegar
1/4 cup Worcestershire sauce
1 (12 oz) chili sauce
1 medium onion, chopped
Add 1 tablespoon of oil to skillet; place over medium-high heat until hot. Brown half of the ribs in skillet and set aside. Brown remaining ribs in remaining tablespoon of oil. Return ribs to skillet; add sherry and 1/2 cup water. Bring to a boil. Cover, reduce heat and simmer 1&1/2 hours.
Meanwhile, combine brown sugar and remaining 9 ingredients in a 2 quart saucepan. Bring to a boil; simmer, uncovered over medium heat for 1 hour.
Transfer ribs to a 13×9 pan; pour sauce over ribs. Bake, uncovered at 300 for 1 hour, basting occasionally.
Yield: 4 servings
Baked Beans
2 28 oz cans Bush's Original Baked Beans
1 sweet onion, chopped
1 cup ketchup
1/2 cup mustard
2 tablespoons brown sugar
4 bacon slices
Stir together first 5 ingredients; pour into a lightly greased casserole dish. Top with bacon. Bake uncovered at 400 for 45 minutes. Broil 5 inches from heat for 1 minute or until the bacon is browned.
Corn on the Cob
4 ears of corn
Herb butter
Grill the corn on the grill (or microwave for 6 minutes with the husk on). Melt butter and mix in fresh basil and garlic. Brush on corn.
Hope you all enjoy!