I don't know about you, but December is a month of big fun, and because we're out having all the big fun, there hasn't been as much time for blogging…or cooking…

until today.
Today I baked and cooked a big dinner that we ate on the Christmas dishes, because that's just how we roll around here in December.
I'll do a cookie-palooza later this week. I thought I'd just give you some ideas for supper today.
First dinner, then a pictorial tour of the first 18 days of December.
Sound good?
Marinated Pork Tenderloin (or Steak with the Seeds on It as AC has named it)
1 pkg. pork tenderloin (or you can just get boneless pork chops) cut into fillets
1/2 cup soy sauce
1/2 cup brown sugar
3 Tablespoons Dijon mustard (I use the kind with the whole mustard seeds- thus AC's name for the pork)
3 Tablespoons whiskey (you can use water if you must, but the whiskey makes it richer)
Mix the soy sauce, brown sugar, mustard, and whiskey together in a large Ziploc bag. Put pork in the bag and marinate. (I let it sit all day in the fridge)
Grill until cooked through.


Balsamic Glazed Broccoli
2 bunches of broccoli cut up (I just buy the bagged florets)
1/2 cup balsamic vinegar
1/2 cup butter
2 Tablespoons brown sugar
pinch of salt
pinch of pepper
Steam broccoli and put in a serving bowl. In a saucepan cook balsamic vinegar on medium high heat until it is reduced by half. Then add the butter, brown sugar, salt, and pepper. Pour over broccoli and serve.
Mashed Potato Casserole
6 potatoes peeled and diced
1 teaspoon minced garlic
8 oz sour cream
8 oz cream cheese
2 cups of shredded cheddar cheese
Put potatoes in saucepan covered with water. Salt and add garlic. Boil until tender. Pour potatoes into mixing bowl, add sour cream and cream cheese and beat until smooth. Pour into a 2 quart casserole dish and top with cheese. Bake at 350-400 until cheese is bubbly and golden.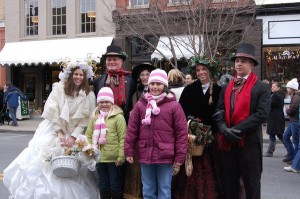 Dickens of a Christmas downtown. The kids love this- the entire town is decked out in their 19th century finest and they wander the streets speaking in an English accent saying things like Bah-humbug and throwing pennies at them.
Told you- priceless.
AC saw the woman in the white dress and was awestruck- pictures had to be taken. She's been dreaming and drawing wedding dresses ever since. Apparently she likes the cream puff look. Here's hoping her tastes mature a bit before she marries. Heck, here's hoping SHE matures a bit before she marries.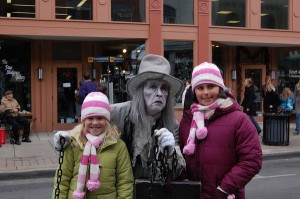 They also had to have their picture made with the ghost of Christmas past. Friendly fellow- threatened them with their lives if they didn't behave.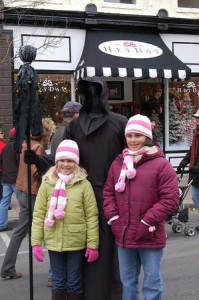 I'm pretty sure this guy is left over from the Pumpkin Fest in October. We also have a picture of the girls with Chewbacca from that particular festival. I'll save that pic for another day, because you can only enjoy so many pictures of my children with fictional characters before you grow tired.
Tired yet?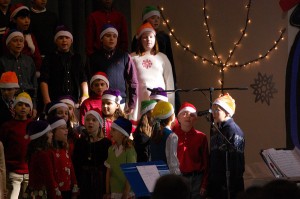 This was AC's Christmas program at school. She's nowhere in the picture. I have dozens of her standing and singing, but I thought the light was sweet here. It makes it even sweeter when you know they were singing "Away in a Manger."
Told you. Very sweet.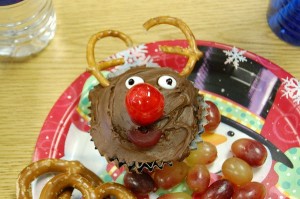 How about this for some cupcake creativity? I know. I KNOW. And no, I didn't make them, but I was instructed by AC, our cruise director for the holiday season, that in order for her Christmas to be truly complete, we must make these.
If your child decides the same- the nose is a blow pop (trim the stick), the mouth is 1/2 gummy lifesaver, the eyes are white m&m's with a dot of black icing. (You can get white m&m's at some grocery stores or at the candy store in the mall – well if you have a candy store in your mall. Apparently we do, and apparently they have quite a selection of colored m&m's for your decorating pleasure.) And the antlers are large pretzels that are broken in half. The mom who made these said she spent more time than was prudent trying to break the things in half without them crumbling into pieces.
Sounds like a job for Coach.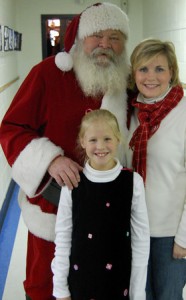 AC and Me with the real Santa. He lives right here in Franklin. We saw him two summers ago at the bank. AC was struck speechless and dumb. He walked right up to her in his Tommy Bahama shirt, flip flops, and shorts and asked her if she was being good. He told her he summered in Franklin and was keeping his eye on her.
Best July of my entire life. Hands down.
Y'all enjoy supper. I'll put up recipes for all the cookies in the next couple of days. Happy Sunday!