It's officially summer here…finally.
After 2000 meetings, end of the year parties, track meets, graduation parties, and all other manner of minutiae, we did finally make it.
And it nearly killed us all.
But that's okay because we leave this Friday for here…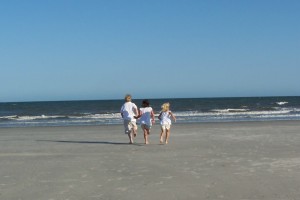 Where I plan on doing nothing other than sitting in my float sent straight from God while reading fun girlie books that have no literary merit whatsoever, not even a little symbolism.
And the place we're staying this year has the most incredible pool and TIKI BAR (because no vacation is complete without one) and the kids are all excited because they have kiddie tiki drinks.
Coach, who is not really so pumped about the tiki bar, is pretty pumped about stopping by to see his college roommate. But what he's really pumped about is seeing the USS Alabama and all its sister aircraft and submarines.
Every year we take the kids somewhere educational on Saturday before check-in. (Now, before you start deciding that we are responsible and intellectual parents, let me just tell you we do it because Coach and I are both so excited to see the beach that we can't wait another minute and the tours keep the kids occupied until we can check in to our house for the week.)
Last year we spent a day in Savannah- a FULL day. We started at Bonaventure Cemetery (if you've not ever been- you MUST go and kids LOVE it) where we took pictures of beautiful statues, Spanish moss, and historical graves.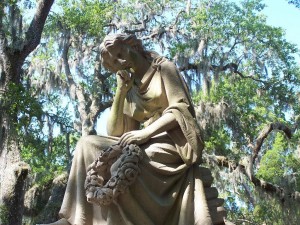 G ironically, had just finished studying about southern history in school, and kept trying to give us lectures on the first governor of Georgia and then the Jacksonian Era. We politely declined a million times.
V and AC listened to him, Coach and I played a very fun game of Ghost in the Graveyard (seriously- when can you actually play that game IN a cemetery? We can hear about the Telfairs and Andrew Jackson any old time)
From there we visited the First African Baptist Church (took a tour from a Junior deacon there- again, we ALL loved it- it's free and if you're anywhere close to Savannah- you must go). Then we went to the big fountain in Forsythe Park, saw the house where Juliet Gordon Lowe grew up (Girl Scouts), rode on public transportation- a new experience for all of our kiddos, saw the 2nd African Baptist Church where the Emancipation Proclamation was read (3 years LATER) to the slaves in Georgia, and finally, the Cathedral of St. John the Baptist -which is beautiful– literally breathtaking.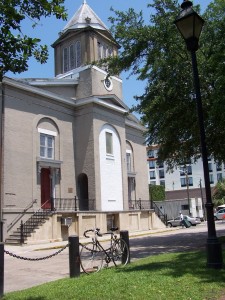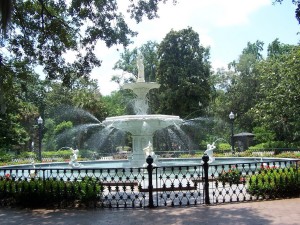 I had a lot of fun messing with G there. He's very big on classification and order. So while we are Baptists by denomination, G takes it a bit far. He prides himself on being Baptist- and nothing else. So when we went in the cathedral and he saw the Holy Water (do you capitalize that?) he asked if he could touch it- I told him sure. When he did, I said "Congratulations Buddy, now you're Catholic"
He had a stroke; albeit a small one.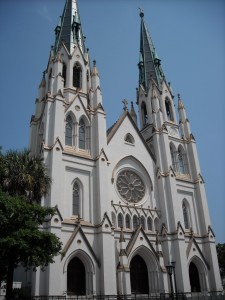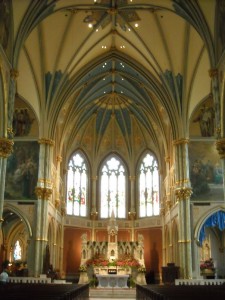 I love messing with him because he is
sooooooo
literal. Then we had to have a serious talk about how Jesus really never meant for us to classify ourselves as Baptist or Catholic or Methodist- but just wanted us all to be a part of the body and love each other. Then he decided it was safe for his little Baptist behind to enter into the cathedral again and look at the art work.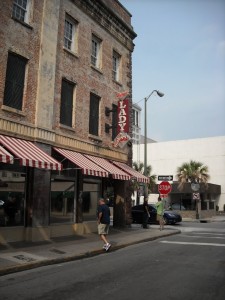 Then we had ourselves some dinner at Ms. Paula's restaurant because we all love her so much. And in Coach's immortal words: "Our kids put a hurt on the buffet there." So with full bellies, sunburned cheeks, and blistered feet, we headed on into Hilton Head for a week of rest and relaxation.
So, in 4 days and a few odd hours we will load them all up with
iPods
, DVD players, and books, and we'll be headed to the Gulf of Mexico this year for fun in the sun and a little military history. I'm so excited I can hardly stand it.
But for now I'll just say Happy Sunday- I'll put a hamburger recipe that is out of this world on for Memorial Day, and I'll wish you and your families a great beginning to the summer.