I have a lot on my mind. Actually I have 9 days on my mind. That is precisely how many days I have left to teach before exams begin at our school and I begin to taste the sweet nectar that is summertime freedom.
In addition to those 9 days, there are 30 days until we leave on our little family vacation to the beach. Do you know what that means? If you're a woman you do- it means 30 days to swimsuit season.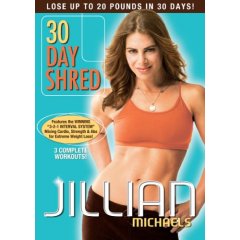 A few weeks ago I bought Jillian Michael's DVD – 30 Day Shred. Now, I am a big fan of shredded cheese- as a matter of fact I shredded two huge blocks of cheese last night in a homemade macaroni and cheese symphony that can only be described as awe-inspiring. One could argue that shredded cheddar cheese is the cornerstone of my diet.
And that is precisely why I am in my current predicament. The problem is that shredded cheddar does not give one's abs a shredded appearance- it's really more dimply or perhaps lumpy. And while I did manage to lose quite a bit of weight during my illness, apparently losing 15 pounds in 8 days when you're at the threshold of middle-age only exacerbates the cellulite problem. The skin really flaps and oscillates off the bone in a manner that is neither pretty nor practical.
But back to the video. It is in the top drawer of the television cabinet still blanketed in its cellophane wrapper just like God intended it. But, that will end tonight.
In some sort of twisted Divine intervention, Sophie (Boo Mama) talked about the 30 day Shred the other day in one of her posts. And then she mentioned that Melanie (Big Mama) was doing it too. And I do believe that a while ago my other Southern buddy Leslie Ruth mentioned it as well. And maybe even Kelly. It all started when Vicki started a few weeks ago, and in some sort of very odd blogging peer-pressure experiment, people are jumping on the 30 Day Shred bandwagon. All I know is that now I'm feeling just like I did when everyone was kissing boys behind the pencil sharpener wall in 7th grade, and in an effort to throw myself back into all the insecurities and dramas of junior high- I have caved. Tonight I will shred.
I will begin the 20 minute torture that I will endure for the next 30 days so as not to have to stare at the hail damage on the tops of my thighs as I float in the pool reading books whilst completely oblivious to the world around me.
In other, much more exciting news, while I will be trying to rid the middle-Tennessee area of a little cellulite, Momsense is getting a makeover too! I got word from Designer Blogs that it's my turn! I've been so excited and have checked the queue for weeks, and the time is here- so watch out- we'll look a little different in a week or so.
If all goes well tonight- I'll be back tomorrow with a recipe or two and some news from our little Ugandan boy and how things are going with the Compassion Bloggers in India. They are writing some truly inspiring posts about what is happening with impoverished children there- please check them out. You can click here for more information on how to find those posts.