1. I'm thinking about titling all of my posts with old country songs. What do you think?
2. My mom has everything. Seriously, you can't buy her anything. She did say she wanted a dust buster last night, so there's an idea, but anyway, she has everything. So for her birthday/Mother's Day we gave her a dinner. Told her to invite friends, we'd cook, and they could eat.
3. We had said dinner last night, which is mostly why I haven't blogged in a few days.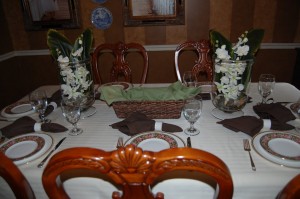 The set table. Oddly, no pictures of the actual dinner as I had planned because all the serving and cooking kind of kept me occupied.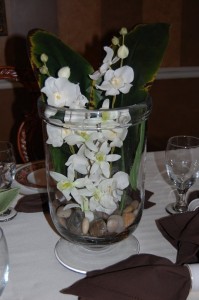 The flower arrangements THAT I MADE ALL BY MYSELF. You have no idea what a victory this was- typically I am very challenged in the art of flower arranging.
4. But, we also had to go see this darling thing that was born on Saturday. Aaaaaaah babies make me over the moon happy- especially when they aren't mine and I can just hold them and smell them and then give them back and go home and sleep all night long.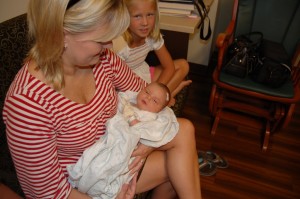 5. And lastly, this is a slow day in the family garden. Lately we've been pulling two five gallon buckets of vegetables out EVERY DAY. I've made marinara, brushchetta, salsa, pesto, pickles, squash casserole, fried okra, you name it – the harvesting has seriously cut into my blogging.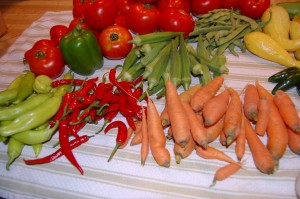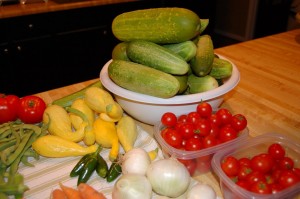 But- I've got a post in the works about OCD, boobs, dogs, and church ladies. I'm just having a problem finding a song title to go along with it.
See y'all!