I know.  I ran out of Momsense.  Actually, I didn't run out, but I have an editorial board now that doesn't mess around.  It turns out that the natives don't enjoy being written about as much as they once did.
That doesn't mean I won't write about them, but the one rule we have all tried to live by is not to tell someone else's story without permission.
It also turns out that permission is hard to come by these days.  Especially when doled out by teenagers.
Coach, on the other hand, doesn't mind as much.  Frankly he enjoys knowing that it's usually his antics that get the most readers.  That, and he's a saint.
So, there will still be stories.  Things are still nuts, and we still very much keep the ER doctors in stitches and nice vacation homes, though not as much lately.
In addition to stories, and so that I actually have something to write about regularly, there will be book reviews.  Some will be sponsored and some won't.
Again, I know.  I have time to read.  Who knew?  If you are in the sippy-cup years, hang on.  There will be a day that you will just go to bed at 8:30 because everyone has everything handled and no one needs you to wash their hair or smell their breath for hints of toothpaste.
And you will be able to read again.  Real words.  No pictures.  No rhymes.
And you will be a little bit sad.  You might even cry when your newly turned 17-year-old comes in with a Thomas the Train balloon from friends and tells you he's just going to hang with friends for his birthday.  No blow-up castles, no goodie bags, no party games.  Oh, it will seem so nice at first knowing that you don't have to plan a party.  But then you'll remember that you've only got one more birthday party with him living in your house all the time, and that fact plus a Thomas the Train balloon equals a total mommy meltdown.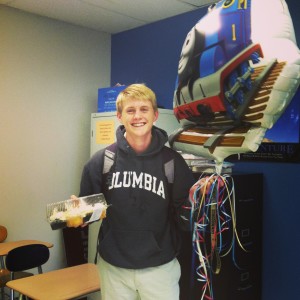 Look for book reviews on Mondays.  I'll post recipes we're trying, things I'm growing, and as always, new discoveries in my war against aging.
Hint: we really are what we eat.  Who knew?  I'm aging backwards.  We'll talk about that on Tuesday.  Just think, if you start Tuesday, you can be twenty-three by October!  Unless you are 23 now.
If that's the case, get thee to a beach.  Enjoy skin elasticity and the metabolism of a moose; those things are fleeting.  Trust me.  I've done the leg-work.
So.  Welcome to my life after the Momsense.  Let's talk girl stuff.
See y'all!