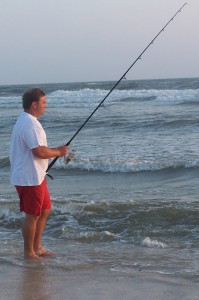 So the big man turns 34 today, which does in fact, make me a cradle robber. He was in middle school when I graduated from high school, and if you want to know something REALLY creepy- I was his camp counselor once and almost his English teacher his senior year. I like to think it was Divine Intervention that kept that from happening.
Anyway, I just thought you'd enjoy 34 random things about Coach.
1. He won't commit to a favorite food (which makes deciding what to make him for his birthday dinner VERY difficult)
2. He prefers not to make decisions regarding restaurants, movies, vacation spots, or paint colors. (Which works out perfectly because I do like to make decisions regarding all of those, and usually prefer not to have any input)
3. He is uncomfortable (we'll not use the word scared) with horror movies and roller coasters.
4. If he's stressed he gets sick at his stomach- every single time.
5. He has a very weird obsession about keeping his car clean.
6. He is currently having an affair with the dustbuster. He sweeps the hardwood floors and dustbusts AT LEAST once a day.
7. He is anal about laundry and does it daily (a definite bonus for me)
8. He finds joy in cleaning, but not in cooking.
9. He has a wife who finds joy in cooking, but not in cleaning.
11. He is mesmerized by anything on Discovery Channel or ESPN.
12. We once sat on the couch and watched football for so long that we were both sore.
13. He can fall asleep anywhere at any time.
14. He has decades of sports trivia locked in his head- he usually never misses- NASCAR, bowling, football, baseball, golf, you name it, he knows it.
15. He is very artistic and creative. He is so much better at helping with creative school projects than I am.
16. He can do math- all kinds. I know that may not be impressive to most, but to me and my kin it is both impressive and helpful.
17. He likes to read about sports and religion – he's not a big fiction fan.
18. If he could have any car in the world it would be a Land Cruiser.
19. Sometimes he changes clothes 3 or 4 times before he decides on what he's wearing.
20. His ties are arranged on his tie racks just like a prism.
21. One year for Christmas he asked for a hunting knife, a tent, a flint, and a compass. We're still wondering if he's planning some kind of survival trip.
22. Children LOVE him- they run to him, make faces at him, stare at him.
23. While on a mission trip in Guatemala someone gave him a baby. (No, he didn't get to keep it) and someone else stole his wallet.
24. He has the best laugh ever.
25. He played professional football in Germany for a season. He is quick to tell people that playing in Germany is NOTHING like the NFL, but I tell him he should ride it for all he can.
26. He is the kinder, more compassionate of the two of us and is very slow to anger
27. He loves to fish, but never gets to go.
28. He's a football coach, but as long as I've known him I've NEVER known him to watch a football game in its entirety on television. He'll eventually end up sweeping, blowing the driveway off, or watching a silly movie. I don't know why.
29. His first job was at a golf course, which is something I just cannot begin to picture.
30. He talks to his dad and tells him he loves him every day.
31. He love, love, loves to talk on the phone- one month he logged 36 hours! We call him chatty Kenny
32. Other than when he's on the phone, he is usually very quiet.
33. He is honest, he is loyal, he is faithful, he loves Jesus, and he loves me – all to a fault.
34. He would rather be with his family than anywhere else in the world.
Happy Birthday Babe! Love You!