Happy 4th of July! And you ask why there is a picture of the gates of Heaven below? I promise- it'll all come together for you in a minute…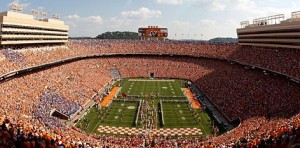 These are, in fact, the gates of Heaven. I can hardly wait to meet up with Jesus in the great stadium in the sky so we can hang out together waving orange and white pom-poms singing "Rocky Top" together. Just you wait and see.
Until then – let's stick to the story. It was here during the 1991 football season that Lee Greenwood sang "God Bless the USA" during halftime of the Tennessee vs. Ole Miss football game. The same year that I was developing a great dislike for Andy Kelly, and would later that season mourn the loss of Johnny Majors while the Vols began a new era under Phil Fulmer, the Great Pumpkin.
Okay, so back to the halftime performance. We were in the middle of Desert Storm and patriotism was at an all-time high. Naturally, Lee Greenwood enjoyed a surge of popularity for both his song "God Bless the USA" and his impeccable fashion sense.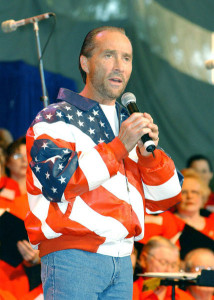 The Pride of the Southland Band marched onto the field, played "America the Beautiful,"and then Lee Greenwood walked to the middle of the field and sang his song, fireworks exploded over the river, fighter jets flew over in formation, Smoky howled on the sidelines, and as the song was coming to a close, an eagle soared down and circled the stadium and its 103,000+ fans, and then landed on Mr. Greenwood's shoulder. Neyland Stadium erupted in cheers; it was awe-inspiring.
And Lee Greenwood, like a Phoenix, resurrected himself in song. Again.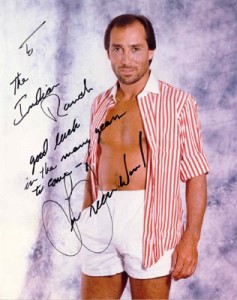 …Thus this very clever ensemble.
It's been 16 years since that performance. Phil Fulmer has come and gone. I forgave Andy Kelly after an impressive win at Notre Dame, then fell head over heels in love with Heath Shuler, Peyton Manning, and Tee Martin, and I even learned to tolerate the Clausens. They were formative years for me.
And Mr. Greenwood? Well, he married again, had a child later in life, and as irony would have it, that child attends the school where we teach and the kids are in school.
It was there he became one of AC's victims.
He was bringing in cookies for a choral performance at school. An entire basket full of enormous cookies decorated like basketballs. AC, never one to miss out on a cookie, approached him to see the cookies and they struck up a conversation.
LG: Would you like a cookie?
AC: Yes, thank you.
LG: Are you singing tonight?
AC: No, my brother is. But I like to sing. I like to sing a lot.
LG: Oh yeah? I like to sing too. Matter of fact, that's my job.
AC: Are you famous?
LG: Ummmm. Well, yes I guess you could say I'm famous.
AC: What are the names of some of your songs?
LG: Ever heard "God Bless the USA"?
AC: Nope. What's your name?
LG: Lee Greenwood.
AC: Never heard of ya'
Oh yes she did. But that wasn't nearly as bad as the time she told Faith Hill at a football game that Coach said "She was starting to wear a bit."
Or when she told Albert Haynesworth at the very same football game that she had no idea you could be that fat and play football as she proceeded to sit in his lap and get his autograph. I have to tell you, I've seen him almost take a man's head off for less. (Seriously).
So, y'all come on by; she'll be serving Humble Pie all weekend long.
Happy 4th and God Bless the USA!