Listen, last night I made it home and decided that I couldn't do another thing. Dinner was only going to happen if the dinner fairy came or if Coach cooked it for us. It was just the two of us, so I figured that if I had to settle for some rice and a hunk of Velveeta Cheese that I'd just make peace with it.
I should have just gone with Velveeta. I did manage to sear some steaks for us while he made the "side dish." And by dish, I mean drink.
You may not know this, but Coach has been converted to a Crossfit Crazy which means he jumps on boxes, stands on his hands, and drinks coconut milk.
I would just like to point out for the record, that cultures that rely heavily on coconut milk are not naturally thin people which seems counterintuitive to me, but I don't like coconut. Maybe I'm not giving it a fair shake.
Speaking of shakes. That's what he made us, and by "he" I really mean me because he couldn't figure out how to work the food processor. So he poured coconut milk all over the kitchen and then I made the shake. It was a concoction of berries, spinach, and coconut milk.
It tasted like coconut flavored gravel. So he choked that down all by himself while bemoaning the cost of a Vitamix Blender. He saw one on a YouTube video and asked if I knew where to get one.
Oh sure I do. But I asked Coach if he was really going to spend $700 on a blender. He said there was no way a blender costs $700 (says the man who flipped completely out when we paid $29 for khaki pants- and then he took them back because they were too expensive!).
I said, "Yes, there is a way. The people who make the blender decided that $700 was the price, and that is how the blender came to cost $700."
He said, "I don't believe that."
And yet, it is still true.
All that to say, if I want to avoid liquid side dishes that involve any sort of coconut ingredient, I'm obviously going to have to make them myself.
And since it is May and it is sunny and warm and I'm all hopped up on spinach and coconut milk, we are having a Mexican Fiesta tonight. And it will be healthy. And there will be NO coconuts.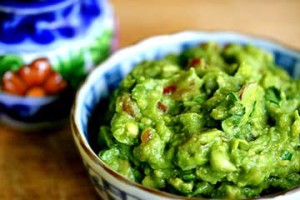 For my 24-Day Challenge friends- this is a go for you as well!
I"m making homemade salsa, guacamole, and a healthy version of chicken enchiladas; we'll also eat some spicy black beans and leftover wild rice salad. I don't tell the family they're healthy though. It is hands down, their absolute favorite meal.
If you want the recipes you can find them by clicking the links below. And for those of you who are doing the 24-Day Challenge with us, these are all approved. If you are cleansing, leave off the cheese!
Salsa
Guacamole
Chicken Enchiladas
Spicy Black Beans