Coach and I were teaching 7th grade together at my alma mater when we started dating exactly 7 years ago today. My Catholic friends tell me that we both get to skip over Purgatory and head straight on into Heaven because of our middle school service. We'll see.
Anyway, every year the 7th grade team took the kids on a little cliff jumping adventure. The purpose was to get them out of their comfort zone so they would make new friends since they were coming from several different schools.
Genius isn't it? Nothing encourages camaraderie faster than life-threatening wilderness situations. So just like we had done many times before, six teachers loaded 100+ 7th graders on buses, and off we went to risk life and limb all in the name of love.
Of the six teachers that actually made the hike to the cliff, I was the oldest. I was 32. Inspires a lot of confidence doesn't it?
And I have to tell you that the conversation the six of us had in the SUV (like we were going to ride on the bus with them!) centered around overprotective parents, and what a wonderful thing we were doing with these kids, and how we didn't want kids to be afraid to get outside and try things, and blah, blah, blah.
It's easy to say when said kids are not your kids.
In 2003 I decided I was jumping off the cliff if it killed me. Apparently, I did not have a lot to live for at the time. It wasn't a good year.
AND, truth be told, we had also had another conversation in the car about people who were high maintenance. Coach started it. We weren't dating yet. YET.
There were two men in the car and four women. Coach and the other man went on about women who were whiny and girly about things. Let's just say that of the four women in the car that day, I was the least low-maintenance. I know. Hard to picture.
So, I hiked across rapidly moving water, over boulders that were 6 feet tall, through a stretch of fauna that I affectionately call the "Venomous Vault" because of the likelihood of reptiles lacking shoulders, and finally up the side of a cliff.
Oh yeah, and the whole time I was guarding those kids lives like it was my job (because it actually was- which absolutely stuns me every time I think about it). And I was smiling. I attribute it all to Pre-Traumatic Stress Syndrome.
Coach's job every year was to be the first one to jump off the cliff to make sure the water was deep enough. I've always wondered what would happen if it wasn't. Thankfully, depth has not ever been an issue, and Coach still walks upright.
So, after climbing a cliff that I have to believe rivals Everest, I walked across some rocks to another cliff from which I was about to launch myself. I knew if I stopped I would never jump. I over think things. Again, I know. Hard to believe.
As I approached the edge where Coach and another colleague were standing to monitor the kids, I broke into a very slow jog and ran right off the side. Both men were speechless.
If you know Coach, that in itself is quite a feat.
This year, we took the kids to the scene of the first water adventure. Did I say it was a lot easier to hike kids in and encourage them to jump off a cliff when they aren't your kids?
It is.
But I did it. Because after 7 years of riding the crazy river of life with Coach and what would eventually be our funny family, I am more convinced than ever that facing fears and jumping into them are valuable lessons. Those experiences do bring you closer, and I have memories from those years with BA kids at Blue Hole that are priceless (and only two involve stitches).
And if you think I'm exaggerating, take a look below.
AC stood on the very edge of a 30-45 foot cliff (depends on who you ask) and talked to total strangers. She also scaled rocks and cliffs like a mountain goat, and gave me real-time trail difficulty updates…in Spanish.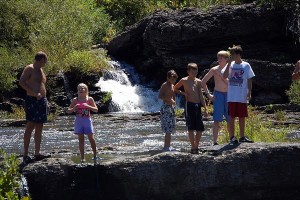 Coach is trying to coax her to jump. At this point I am still not sure she should jump. She's the baby. Babies don't jump. They stay with you forever. They weren't created for all the jumping and adventure. Then I remember what her room looks like on a regular basis. I begin to rethink.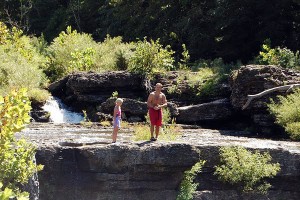 And I think, "It can't be all bad. She'll probably be fine." Because I don't want her to leave and wish she had jumped. And I knew she would. I've seen it a dozen times before with 7th graders.
Generally it doesn't take much to get her to try something new.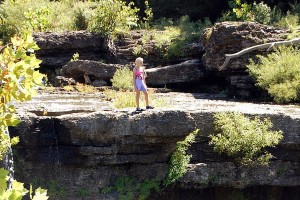 Specifically, it takes frozen yogurt with brownie bits on top.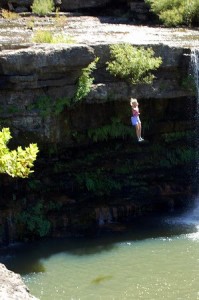 But G, on the other hand, never hesitated. He jumped…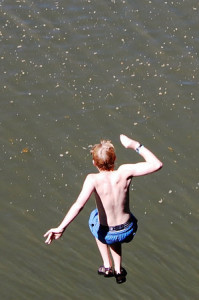 and jumped…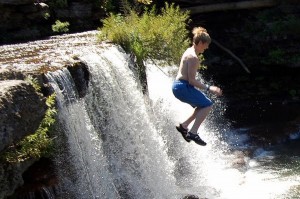 and jumped.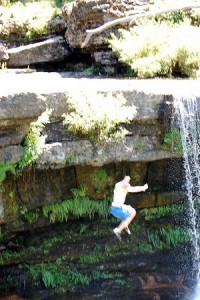 and here is a gratuitous shot of Coach's muscles. He'll be embarrassed.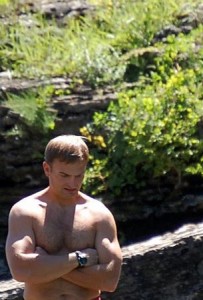 And if you're wondering if I jumped yesterday. The answer is no. The last time I jumped I burst an ear drum. I think an ear drum and a
butt cheek
are sacrifice enough. I took the year off.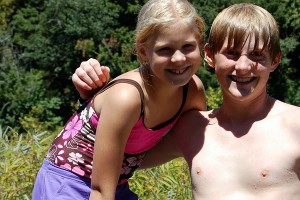 So, to all my fellow Blue Hole alums- I thought about you yesterday.
Johnson and Catherine- I prayed specifically for you two- I hope the healing is quick- I know you're surrounded by all your BA friends- they've kept me updated this week.
They are the reasons I know we accomplished what was intended at Blue Hole. You learned to love each other well.
And finally, to all the parents of Blue Hole alums- thanks for letting us throw your children off a cliff. We watched them every second!
See y'all!