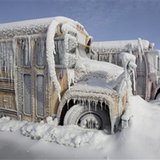 So, there's this funny thing happening right now. I'm at school. It's 7 degrees outside with a windchill of -1. There is snow on the ground; and every side street I've seen is a skating rink.
And we are the ONLY school in session today within 200 miles. I am NOT exaggerating.
We're sort of like the post office.
Except at the post office the employees deal with letters and boxes and stamps.
We handle disgruntled teenagers who have a remarkable inability to control their hormones, emotions, and ability to reason. This lack of control is greatly exaggerated when they know they are the only people under the age of 18 who are not only out of their warm beds, but are also in school being asked to discuss the finer points of the digestion system and Moby Dick.

Sort of the same thing. Except it's really not.
Don't get me started. There's a word for a situation like this. I don't know what it is, but I know there's a word.
What I do know is that it is just too cold to be anywhere that frowns upon layers of polar fleece and Uggs.
Currently, I'm in one of those places.
But tonight- well, tonight I'll be back home in front of a fire in several layers of polar fleece watching whatever comes on television.
And we'll be eating this:
Chicken Noodle Soup
1/4 cup butter
3 medium carrots thinly sliced
1 onion, chopped
16 oz baby bella mushrooms
12 cups chicken broth
1 bay leaf
2 teaspoons of thyme (fresh if you've got it, but if it's 7 degrees where you are- just use the ground thyme)
1 teaspoon salt
1/2 teaspoon ground black pepper (I use a whole lot more)
2 cups cooked shredded chicken (I buy the cooked rotisserie chickens and use a whole one- I pour the juice in the broth and put the skin is as well)
2 cups uncooked wide egg noodles
In a large Dutch oven , melt butter over heat and add the carrots, celery, onion, and mushrooms; cooke 6-7 minutes, stirring frequently, until tender. Add broth, bay leaf, thyme, salt, and pepper; bring to a boil. Reduce heat and simmer 15 minutes. THEN stir in chicken and noodles; simmer 8-10 minutes more until the noodles are tender. You're done – enjoy.
And this:
Artichoke Cheese Bread
(Adapted from Pioneer Woman- Ree Drummond's Olive Cheese Bread)
1 can artichoke hearts, drained and chopped
1/2 cup parmesan cheese
4-6 green onions
1 stick butter, softened
1/2 cup mayonnaise
1 pound Monterey Jack Cheese, grated
1 loaf French Bread
Chop the artichoke hearts and onions. In a large bowl combine the butter, mayo, cheeses, artichokes, and green onions and stir until well-mixed. Slice the bred in half length-wise. Spread the mixture evenly on each half.
Bake for 20-25 minutes until the mixture is thoroughly melted and the cheese starts to bubble and turn brown.
Cut into slices and serve with soup.
See y'all!