Two Christmases ago I convinced AC that her life-long dream was to own a Barbie Dream House. When I was a child I had a small army of Barbie dolls, an arsenal of cars, vans, RV's, and maybe even a swimming pool, but never the elusive Dream House.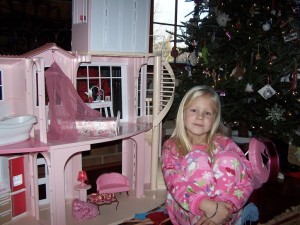 I don't remember why I never actually acquired the house- I think it had something to do with a ten-speed bike and some tennis-shoe skates, because clearly exercise and fashion were at the forefront of my mind at the time.
Oh well- something had to give- dream home for the Barbie commune or fashionable tennis-shoe skates to wear with my striped tube socks and terry-cloth shorts? Clearly, a tough decision.

I still sport a nice scar on my knee from an unfortunate shoe-skate tackle football game, and have rethought my decision on many occasions. Many occasions.
Anyway, turns out that our girl turns 50 today. And I have to say, she has held up almost as well as my other childhood idol, Christie Brinkley.
Here are a few little known facts about Barbie:
She made her first appearance on March 9, 1959 after Ruth Handler, the wife of Mattel co-owner Elliot Handler, saw her daughter Barbara making paper dolls of women with careers.

Her full name is Barbara Millicent Roberts, but her friends call her Barbie, and she hails from Willows, Wisconsin.

Her

alma

mater is Willows High School, but apparently she had to transfer at some point in her career to Manhattan International High School in New York. It was during this very difficult transition that she became interested in fashion.
In 1961, she met Ken Carson (based on Handler's son, Kenneth) and Barbie and Ken continued to have an on-off relationship until 2004 when Mattel announced that Barbie and Ken had officially split. (45 years

ain

't bad for a

Toyland

romance.)

In February 2006, after a failed relationship with a Nissan-driving military guy, Barbie and Ken officially reunited.

(see video)

She has had over 40 pets including dogs, cats, horses, a lion cub, a zebra, and even a panda bear.

She has a resume that even Donald Trump would appreciate- she's been a pilot, an astronaut, a doctor, a

NASCAR

driver, a veterinarian, a teacher, The President of the United States, a cheerleader, a clerk at

McDonalds

, a model, a dentist, a paleontologist, an Air Force Fighter Pilot, a rock star, a

Rockette

, an Olympic gymnast, a yoga instructor, and a firefighter, to name just a few.

She has inspired fashion and hair styles for decades, even taking credit for Jackie O's hair style.
All of this to say that this incredible woman has been inspiring girls to become educated, successful women who see no limits to what they can do.
So, my question is this: Why does a woman like Barbie who has impacted history, juggled the demands of a professional career, maintained staggering physical beauty, and managed a storybook romance …
find it necessary to go to work in hot pants and a midriff-bearing t-shirt?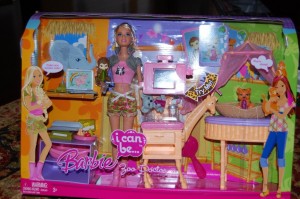 I'm just asking.