Well, here we are stuck right in the middle of the two biggest events of 2014 thus far, the Polar Vortex and the Cheesepocalypse.
This could be the beginning of the ten plagues that will cause a modern Exodus of some sort.  All I know is this, if we don't get this thing turned around and God ends up smiting our borders with  a plague of frogs to come into thy bed and into thine ovens and kneading troughs, all bets are off.
I'm pretty sure I'll call it a day at that point.
The Cheesepocalypse is a real thing- see here.  There is a real shortage of Velveeta cheese and it's trending on Twitter.
I have to confess that I have some serious strongholds when it comes to Velveeta cheese.  I know.  It's awful.  I'm all about eating healthy and avoiding processed food, but Velveeta is a hard habit to break.
I have been known to cut a slab and eat it alone as a snack at which point Coach will look at me and say, "You realize you're basically eating a tumor, right?"
Listen, if having your husband call you a tumor-eater isn't enough to make you give up the remnants of your twenty-something party days with the ever-present sausage balls, spray cheese, and Hawaiian Punch/EverClear mix, I don't know what is.
I think that the Cheesepocalypse is Divine Providence, so I have stepped away from the processed cheese product.
We are cleaning up our nutritional cobwebs and getting things straightened up after a very busy fall at our house.  You know how it is- things are mostly cleaned up, but there are a few little lingering things we need to omit.
We started a healthy cleanse on Monday and part of the cleanse is eating nutritional and unprocessed food.  A friend posted this very quick and fantastic recipe on Facebook and we gave it a try last night.  I am happy to report that it received four thumbs up, and I want you to know that one of those thumbs is VERY difficult to please.
It couldn't be easier.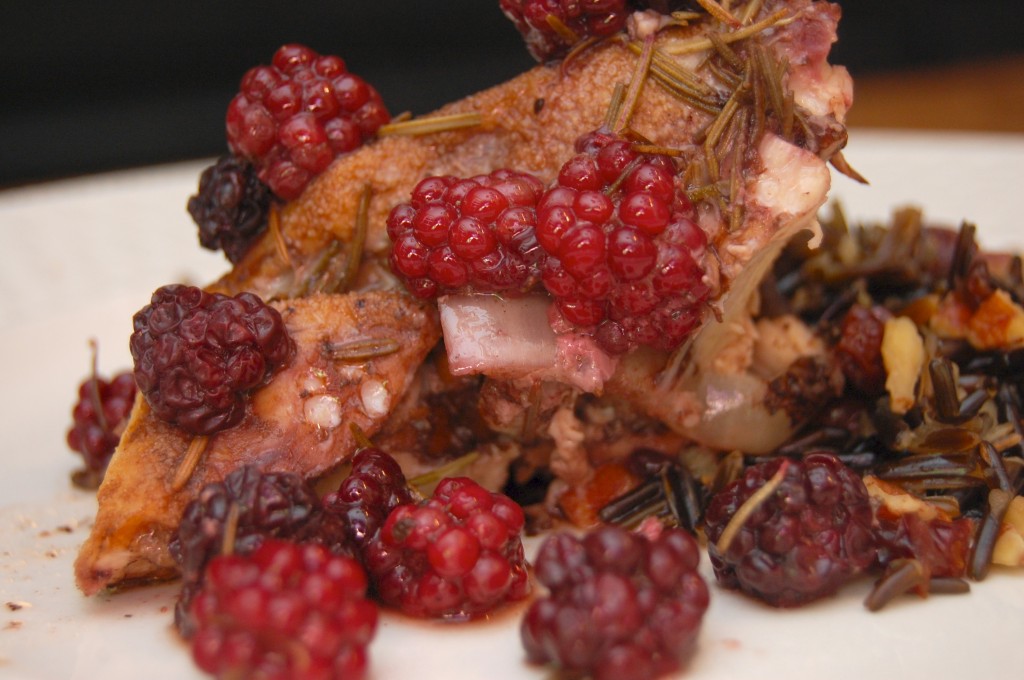 Blackberry-Balsamic Chicken
1 onion sliced into half-rings
1 pound of chicken breasts
1 cup of blackberries (I thawed some that we picked from our bushes this summer, so you can use frozen if you can't find fresh)
1-2 cloves of garlic minced
1-2 tsp. Rosemary (normally I would use it fresh out of the garden, but POLAR VORTEX, so I used some that I dried)
1/2 cup balsamic vinegar
Layer the ingredients in a slow-cooker in the order they are listed.  Turn it on low and cook 4-6 hours.  I doubled this for our family and it cooked 5 1/2 hours and was a little tough- next time I'll go with 4 1/2 hours.
I served it with a wild rice pilaf of sorts.
Wild Rice
3 1/2 cups good chicken stock
1 cup of wild rice (not a wild rice mix- you want 100% wild rice- the grains are long and black)
1 cup dried cherries (I chopped them coarsely)
1/2 cup toasted pecans chopped
Put the chicken stock and wild rice into a pot and bring to a boil on medium heat.  Simmer for 40-50 minutes.  Drain off excess liquid when the rice is finished (it will split).  Stir in cherries and pecans.  Season with salt and pepper if it needs it.
Throw a salad together and voila.  This entire dinner took approximately 12 minutes of hands-on preparation. The slow-cooker is the worker bee here.
There's no reason why you couldn't use strawberries or cranberries on the chicken.
Now, I'm going to go read a book since I have challenged myself to read 43 books in my 43rd year.  I'm working on the list to post if you want to browse and read some as well.
See y'all!